HfTL bestows the title of professor on Christian Czarnecki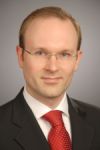 31.07.2015 -
In March 2015 Christian Czarnecki has joined the Department of Economics at HfTL, a University of Applied Sciences, located in Leipzig, Saxony. Now HfTL bestows the title of professor to him.
At his position, Prof. Dr.-Ing. Christian Czarnecki continues his research on enterprise transformations, reference models and enterprise architectures with an emphasis on the telecommunication industry. His teaching includes subjects of process management and enterprise modelling.
Christian Czarnecki has over 10 years of experience in international consulting firms. He was responsible for many transformation projects in Europe, Middle East, and North Africa. In October 2013, he received his PhD from the Otto-von-Guericke-Univ. Magdeburg. He wrote his thesis as external PhD student at the Faculty of Computer Science under the supervision of Prof. Myra Spiliopoulou, KMD Research Lab. A list of his PhD related publications is available here.
HfTL, the Hochschule für Telekommunikation Leipzig (http://www.hft-leipzig.de/de/start.html) specializes in academic teaching and research in the field of information and communications technologies (ICT). It currently has 1100 students on its full-time and part-time Bachelor degree programs in Communications Engineering, Communications and Information Technology, Business Information Systems and the Master of Engineering in Information and Communications Technology (ICT) and Master of Science in Business Information Systems.