KMD Events
20.09.2017 -
On 12.10.2017 at 3:15 p.m. in the room G22A-211 the KMD Lab will present topics for:

• Master Seminars - Advanced Topics in KMD
• Bachelor Seminars
• Scientific Team Projects
• Software Projects
Under the following links, students will find the project and seminar topics for the winter term 2017 - 2018:

After the presentation you can apply for topics that you find interesting.

Our presentation will be in English, but you are free to choose the language of your report and of the communication with your supervisor between English and German.

All students, who are interested in our topics, are invited.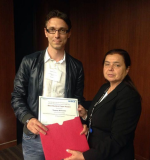 02.06.2014 -
We are happy to announce that Tommy Hielscher has won the Best Student Paper Award at this year's CBMS (27th International Symposium on Computer-Based Medical Systems 2014) for his paper "Using Participant Similarity for the Classification of Epidemiological Data on Hepatic Steatosis". His work is funded as part of the DFG project IMPRINT and in cooperation with the University of Greifswald.
Congratulations to Tommy!